Black Deer Festival 2021 - Payment Plan
Eridge Park, Kent.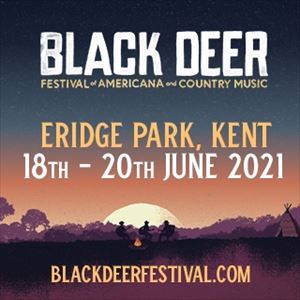 Secure your Black Deer Festival 2021 ticket today for just a 15% deposit and pay the rest off over 6 easy steps!
It's simple - Pay just 15% of the ticket price plus booking fee today to secure your ticket and we will automatically charge your card the remaining balance on the dates outlined below:

Initial payment - Charged immediately upon booking - 15% per ticket plus booking fee
2nd payment - 1st January 2021
3rd payment - 1st February 2021
4th payment - 1st March 2021
5th payment - 1st April 2021
6th payment - 1st May 2021
Final payment - 1st June 2021
More information about Black Deer Festival 2021 - Payment Plan tickets
"Built with love and delivered with precision, Black Deer Festival is a joyous celebration of Americana."
Black Deer Festival is an independent award-winning Americana and Country music festival set in the wild and historic Eridge Park in Kent.
The festival always kicks-off the start of summer by tying in with the summer solstice weekend, which in 2021 takes place on the 18th-20th June.
Black Deer showcases more than 70 roots-inspired artists across five unique stages. From unforgettable Main Stage performances to rowdy roof-lifting sets at Haley's Bar Stage, and heavier blues rock at The Roadhouse Stage to intimate songwriter sessions at The Ridge Stage. Yet it's not just on the stages where music will live. Live music will be scattered throughout Black Deer's spectacular outdoor setting.
Always about more than just the music, Black Deer is a family destination with a community spirit. It's a festival built on a love of the great outdoors, the best in Live Fire and BBQ cooking, the counter-culture of custom built motorcycles and skilled artisans, and all other things authentically Americana.
In this world of Americana and country you'll discover not only the music you already love, but the music you're going to love?
Accessibility - Black Deer aim to cater for all access needs to ensure everyone has an enjoyable time at the Festival. For more information, please visit
www.blackdeerfestival.com/information/accessibility/
Each booking includes Event Protect
This event is covered by Event Protect. If the event is cancelled, you can apply for a refund directly from Event Protect provided the cancellation is covered by their insurance policy.
Learn more about Event Protect