Black Deer Festival 2020 - Live In Vehicle
Eridge Park, Kent.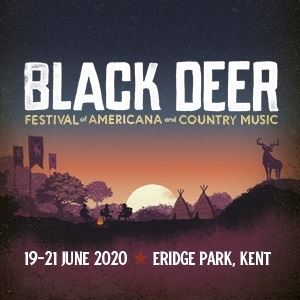 More information about Black Deer Festival 2020 - Live In Vehicle tickets
You must book your live in vehicle pitch in advance. No pitches will be available to purchase on the day.
Standard pitch (Up to 6m)
Large pitch (6x8m)
Extra Large pitch (Over 8m) - Please contact
info@blackdeerfestival.com
Your campervan or caravan must fit completely in the marked out pitch area (e.g. 6m x 6m). This includes any awnings, etc. If your vehicle exceeds 6m you must purchase a large (6x8m) or extra large pitch (Please contact
info@blackdeerfestival.com
).
Each person staying in the live in vehicle field must be in possession of a valid weekend festival ticket including camping. There is a max of 7 people permitted per campervan / caravan pitch.
Only one campervan or caravan is permitted per pitch, with a maximum of 7 occupants per pitch.
All persons staying in your live in vehicle must arrive to the festival at the same time.
No tents to be pitched next to campervans or caravans.
Your pitch will be allocated on site on a first come first serve basis. If you have friends staying in another live in vehicle and you wish to be located close to them you must arrive to the festival at the same time.
A general admission festival ticket does not give access to the live in vehicle field unless accompanied by a valid live in vehicle ticket.
Electric hook ups are not included with the live in vehicle pass, but are available as an optional add-on purchase.
A car parking pass is NOT required for caravans and trailer tents.
"Built with love and delivered with precision, Black Deer Festival is a joyous celebration of Americana."
Black Deer Festival is an independent award-winning Americana and Country music festival set in the wild and historic Eridge Park in Kent.
The festival always kicks-off the start of summer by tying in with the summer solstice weekend, which in 2020 takes place on the 19th-21st June.
Black Deer showcases more than 70 roots-inspired artists across five unique stages. From unforgettable Main Stage performances to rowdy roof-lifting sets at Haley's Bar Stage, and heavier blues rock at The Roadhouse Stage to intimate songwriter sessions at The Ridge Stage. Yet it's not just on the stages where music will live. Live music will be scattered throughout Black Deer's spectacular outdoor setting.
Always about more than just the music, Black Deer is a family destination with a community spirit. It's a festival built on a love of the great outdoors, the best in Live Fire and BBQ cooking, the counter-culture of custom built motorcycles and skilled artisans, and all other things authentically Americana.
In this world of Americana and country you'll discover not only the music you already love, but the music you're going to love?
Accessibility - Black Deer aim to cater for all access needs to ensure everyone has an enjoyable time at the Festival. For more information, please visit
www.blackdeerfestival.com/information/accessibility/
Each booking includes Event Protect
This event is covered by Event Protect. If the event is cancelled, you can apply for a refund directly from Event Protect provided the cancellation is covered by their insurance policy.
Learn more about Event Protect